End-to-end ground based electronic warfare system for border intelligence
The occupation of the electromagnetic spectrum has become increasingly crowded in recent years, due both to the use of devices that emit radar or communication signals, and to the emergence of new forms of signals (LPI low probability of intercept, solid-state radars).
At the same time, the need for continuous surveillance of border areas has become more and more critical. Indeed, ISR systems are playing a larger role in the armed forces' tactical situational awareness chain as a source of intelligence and strategic decision-making support.
To cope with this saturation of the electromagnetic spectrum, how can radar processing systems effectively support the situational awareness chain?
Be integrated into a flexible and modular platform to be in the right place at the right time
Make new radar types detection and identification a priority
Improve the level of detection with high sensitivity sensor
Ensure detailed and real-time radar signature identification
Provide ruggedized systems designed to face demanding, rough, and congested electromagnetic environments
Develop interoperable ELINT RESM systems, which constitute a link in the armed forces' intelligence chain.
How to monitor radar activity over large, critical areas and deliver actionable intelligence?
Faced with new threats, whether unidentified or discreet, armies are seeking to strengthen their electromagnetic support systems. In order to control their environment, to detect any suspicious behavior and to anticipate potential threats, armies are looking to see far and fast.
To ensure national sovereignty, governmental organization implements ground-based ELINT RESM system to monitor wide border area to detect, locate and identity radar emissions within the 0.5GHz – 18 GHz frequency range.
Whether fixed or mobile, Avantix design ELINT RESM systems tailored to territorial and mission requirements to deliver responsive solutions that adequately cover critical areas.
Avantix ELINT R-ESM is a fully passive solution that enables high-speed radar detection and qualified radar signature characterization, providing both real-time situational awareness and intelligence.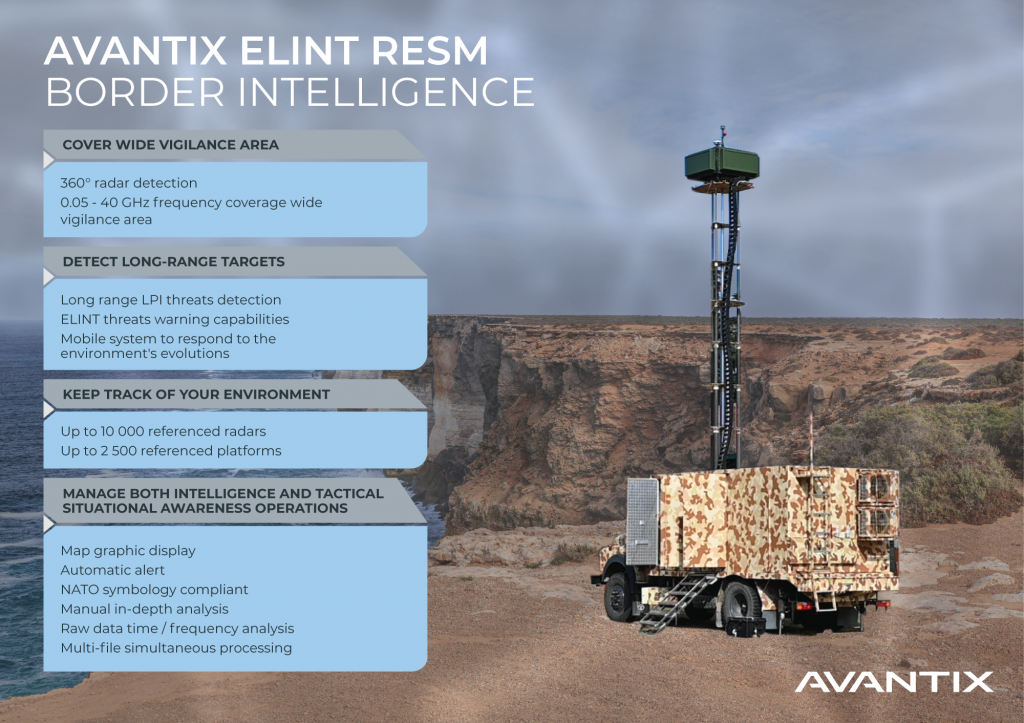 SECURE YOUR BORDERS WITH ACTIONABLE RADAR INTELLIGENCE
Adaptable to critical missions and areas: easy to deploy, the mobile ground solution can be installed in less than 45 minutes. Allowing you to be closer to evolving threats
Modular and interoperable solution that can be integrated into existing systems
Customizable architecture to meet customer requirements in terms of needs and space constraints on platforms
High sensitivity with superheterodyne tuner for efficient radar detection, particularly on low power emission radars
Fast-scanning capabilities with 3GHz instantaneous bandwidth
360° detection on the 0.5-18 GHz bands with permanent spectrum surveillance and automation of signal detection and identification
Tactical visualization with real-time direction finding and tracking, compliant with NATO symbology
Dual mode with ELINT and R-ESM in a single system
CLOSE TO YOUR OPERATIONS
Avantix designs, produces, programs (OS, firmware, software), integrates and validates: a 100% controlled solution tailored to your needs. Open architecture, interconnected platforms, antennas technology and processing capabilities, we can build on our existing products to deliver a customized system that meets your operational requirements.
You are looking for a fitted ELINT RESM ground solution?
Contact our experts to design the ELINT RESM ground solution adapted to your operational needs.